Piano is the heart of the Keene State College Music Department. 
KSC's Music Department provides top level, conservatory-trained Faculty to teach and mentor our student pianists in Performance, Education, and Technology undergraduate B.M. and B.A. Degrees. 
Keene State offers professional level educational opportunities and performances for all pianists. KSC also employs exceptional, full-time Staff Pianists to work with all music students in preparation for juries, workshop performances and recitals throughout their degree programs.
Under the direction of the Coordinator of the Piano program, Dr. Christina Wright-Ivanova, students graduate from Keene State College with a robust and varied skill set, with extensive training in both solo repertoire and collaborative piano skills.
The piano program holds regular Studio Classes, fostering a sense of community while tailoring the program to the needs of the individual student. Our student pianists collaborate with other departments, playing for Theatre and Dance productions and working with multimedia and film in faculty and departmental recitals.
PERFORMANCE OPPORTUNITIES FOR KSC PIANO STUDENTS
Every Wednesday Workshop, KSC Music Students perform in formal recitals from 3-4:45pm in the Alumni Recital Hall. Students of all disciplines and majors are asked to perform and speak from the stage about their repertoire. This is a wonderful opportunity for our pianists to gain valuable experience performing in front of an audience on our beautiful 9 ft. Steinway concert grand.
KSC Concerto Competition
Our 2020 Spring winners included Kirsten Becker, piano (Mozart's Piano Concerto in d minor, K. 466) as well as Madison Shimko, flute and Stephen Cunniff, tenor.

Keene State invests in All-Steinway Capital Campaign!
Keene State College has agreed to a collaboration with Steinway & Sons to begin the process of becoming an all-Steinway school! We will celebrate the developments of the campaign at our Fall 2022 Gala event (Oct. 29th, 2022).
The College would be the first in New Hampshire to acquire this designation. The campaign is being run by the Keene State Advancement office, Marilyn Shriver, Dr. Wright-Ivanova, and Dr. Heather Gilligan, with generous support from the KSC upper administration and Keene community.
We are so grateful to our generous supporters of the Steinway Campaign! Please click here to learn more: https://giving.keene.edu/all-steinway-all-together/ 
Here is what current students say about becoming an all-Steinway school:
"Playing the piano is a big part of my life, and my learning. The All-Steinway Program provides me with the opportunity to create my best work because I have access to high-quality instruments. When I am practicing and performing, I can focus on my work because the instruments help me continue to improve and learn. I am getting the most from my educational experience at Keene State through this program. "
– Kirsten Becker, Keene State College Music Performance Student
"Ever since our Keene State Music Department received the Steinways, my piano skills and musicianship have completely changed. I will never forget the day the pianos first arrived and students were lining the hallways cheering. The pianos were helping me create the sound I wanted, not preventing… With the various different types of ensembles and collaborations I am a part of, it opened my options of where to rehearse with quality instruments everywhere. My favorite memory was practicing and performing my senior recital on a Steinway, looking at the center logo of the piano during my recital, and knowing that I am giving my audience the highest quality music possible."
– Jason Coburn, Keene State College Music Education student
"This is the first time in my life I have had access to a Steinway piano. It has made me so grateful to be a pianist. Along with Dr. Wright's instruction, I find that the Steinways allow me to discover the full potential of all of the intricate sounds the piano can create. As a young student this really excites me, and I have so much fun with the piano. The sparkly character of the highest keys to the warmth of the lower keys on a Steinway are like no other piano I have played. It's so uplifting to think about because as I grow as a pianist, the more I will be able to highlight the true beauty of the instrument through more difficult repertoire. Although it takes a lot of hard work for the student to create the sound they are looking for, the piano always rewards the student for their efforts. I find having access to these pianos inspires honest, and true dedication to the study of piano. I am very grateful to play Steinway pianos everyday, and genuinely look forward to the next four years of my life because of it."
– Rory Butler, Keene State College Bachelor of Music student
Ensembles & Independent Studies Projects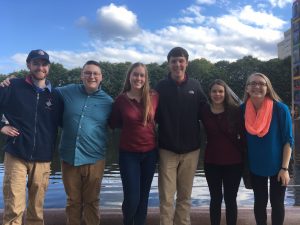 Keene State offers several ensembles for pianists, including Orchestra and Concert Band, Jazz Combos, String Ensemble, and Latin American Ensemble. These unique opportunities have included repertoire for both piano and harpsichord students such as Bach's Brandenburg No. 2 in F Major, Stravinsky's Suite No. 2, Missy Mazzoli's In Spite of All this, and Milhaud's La Creation du Monde with the KSC Orchestra.
Student pianists performed in several concerts in the past 2021-22 season, and will continue this year in several activities, including jazz combos, chamber concerts, and solo recitals. They perform in senior homes, play new works by KSC student and faculty composers, accompany voice lessons, and perform with vocalists in their Oratorio Class and Art Song Class Performances.
Masterclasses and Solo Recitals
The last few  seasons included recitals and classes by Dr. Vanessa Cunha, our Class of '39 Grant Recipientto give classes and a performance of Brazilian Music and Dr. Edoardo Campenedo, who gave a fabulous class and lecture on Franz Liszt. 
Recent guest artists and clinicians include concert pianists Randall Hodgkinson and Stephen Drury (both Faculty at New England Conservatory), Virginia Eskin (former CAMI artist), and Christian Wilm Müller (University of Music Franz Liszt Weimar, Germany).
Chamber Music at Keene State!
We feel strongly about giving Chamber Music opportunities to our students at Keene State!
In the piano program, pianists are encouraged to sign up for chamber music and contemporary ensemble during their study. In chamber studies, they learn how to work with other musicians and are coached by our leading chamber faculty, which include members of the Apple Hill String Quartet and other leading professionals in the chamber and collaborative fields. In contemporary ensemble, they discover new music written by living composers, as well as influential 20th and 21st century works. They are also able to work with student composers in collaboration with the KSC Composition area.
Celebrating Diversity: Castle of our Skins Residency…
We were thrilled to invite Castle of our Skins to Keene State College through a Redfern Arts Center Residency. Our Music Department students heard lectures about celebrating black artistry through music by Artistic Director Ashe Gordon, and benefited from hearing a wonderful evening concert, private lessons, a masterclass and a Student Composer's Reading. Thank you COOS for an outstanding, unique experience that our students will not forget.
Collaboration with Weimar, Germany & Apple Hill
In the spirit of highlighting our collaborations in piano, we had a wonderful residency (Winter 2018) with Keene State College, Apple Hill and the University of Music Franz Liszt Weimar, Germany. They held Master Classes with Keene State College Professors and the Apple Hill String Quartet, as well as a guest master class by Apple Hill Director Lenny Matczynski. Guests from Weimar included Violin Professor Kathrin ten Hagen, and Piano Professor Christian Wilm Müller. 
Piano plays a vital role in the Keene State Music Department – we look forward to telling you more in person!

Dr. Christina Wright-Ivanova, Assistant Professor of Music and Coordinator of Piano – email Dr. Wright at christina.wright-ivanova@keene.edu for more information! Learn more about her here: www.christinajwright.com
Faculty
Christina Wright-Ivanova, Coordinator of Piano and Collaborative Piano
Margaret Dodson-Buhl, Staff Pianist
Virginia Eskin, Staff Pianist
Hugh Keelan, Staff Pianist
Vladimir Odinokikh, Staff Pianist
Timothy Rogers, Staff Pianist, Applied Piano Study
Cheryl Sharrock, Applied Piano Study
Stephanie Wirzburger, Applied Piano Study
Ensembles
Concert Band
Orchestra
String Ensemble
Contemporary Ensemble