Welcome to the Music Department at Keene State College!
MISSION STATEMENT:
The Keene State College Music Department's mission is to promote comprehensive training in music within a liberal-arts setting, thereby preparing students for a purposeful and fulfilling life. We offer a rigorous high-quality, conservatory-level curriculum that develops every student's talents and perspectives, and allows them to achieve their fullest potential as musicians and educators.
Keene State College is accredited by the National Association of Schools of Music (NASM), serving as the only liberal arts institution in northern New England with this distinction for academic rigor and musical excellence.
Our 40+ faculty members hail from across the globe and offer a variety of classes, ensembles, and lessons that support our Music degree programs.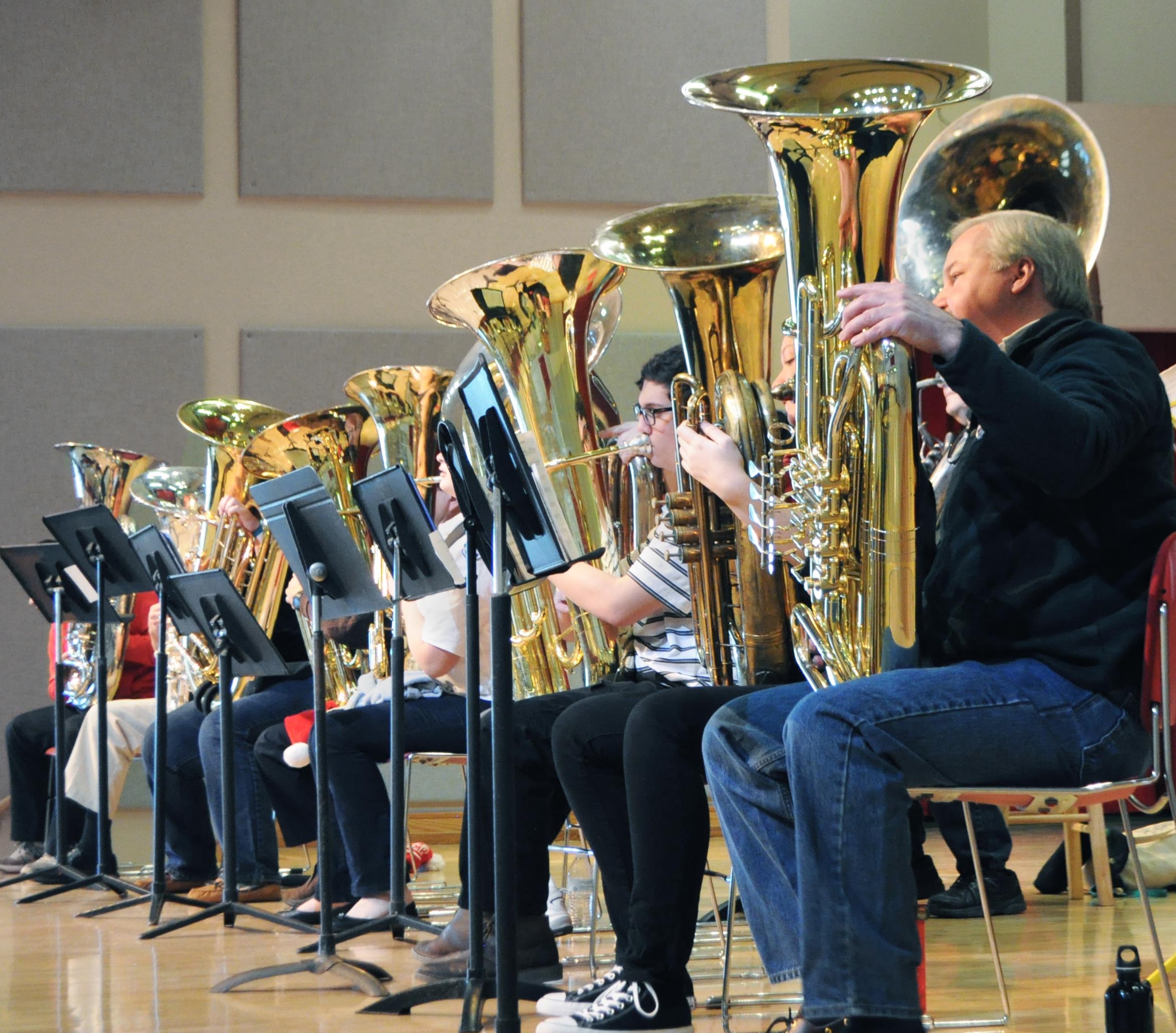 We are an active, multi-faceted program offering over 80 events per year, supporting more than 20 ensembles, and offering one-on-one lessons across all vocal and instrumental categories. We serve over 500 students in the College's Integrative Studies Program, offering an interesting array of topics such as Listening to Brazil, The History of Jazz, Music Cultures of the World, and Avant Rock.
We love teaching in the Cheshire Academy for Lifelong Learning, collaborating with community organizations such as MoCo Arts and Apple Hill, and bringing in guest artists from around the world who work with our students in lessons and master classes.

Many of our faculty, as well as our highest-achieving students, are members of the Kappa Pi chapter of Pi Kappa Lambda, the national music honor society.   We also host active student chapters of the National Association for Music Education (NAfME), the American Choral Directors Association (ACDA), and Music Teachers National Association (MTNA).
Students interested in becoming a music major or minor will need to pass an audition.  Prospective students interested in the Music program can join us for a Shadow Day!  We'll match you with a current music major student who best matches your areas of expertise.  It's a great way to spend a "day in the life" of a music student – and we think you'll like what you see!
Keene State College has embarked on a campaign to become an All Steinway School!  This designation  reflects the high caliber of our Music program and underscores the College's commitment to offer a superior liberal arts education.  With a top notch faculty and a competitive, conservatory-style curriculum, we are committed to achieving musical excellence.  Help us reach our goal by contributing to the All Steinway, All Together campaign.
Keene State Music in the news
Dr. Heidi J. Welch receives Music Distinguished Alumni Award.
Collaborative Musical Performance Marks Redfern's 40th Anniversary Celebration. Read more about PRISM.
Estate of former KSC Artist-in-Residence donates extensive music library collection to the Music Department.
CD Release Professional chamber pianist and coordinator of KSC's Piano program, Christina Wright-Ivanova, recently released a CD recording on Albany Records with 'duo au courant' partner, mezzo-soprano Stephanie Weiss, featuring new American art song by award-winning composer, Daron Hagen.
Keene State Music Department continues international choral-cultural exchange with partner city, Einbeck, Germany.
Faculty TEDx talk  KSC Music faculty Dr. Rebecca Hartka and Dr. José Lezcano build bridges through powerful and moving performance.
Music Education Update KSC's Music Education program holds 100% placement rate.
KSC's niche program Music Department is a distinguished program at KSC.
Isn't it Grand?  The Keene Sentinel announces Keene State College's initiative to become the first in NH to earn an All Steinway Designation.  Read other press about this story:  A press release from keene.edu // Grace Kelly reports on KSC TV // Erin McNemar reports from The KSC Equinox
CD Review  KSC Music faculty Dr. Heather Gilligan's new album Living in Light is "emotionally direct; filled with sweeping, lyrical gestures; and unafraid to venture into the occasionally unexpected sound world."
Faculty Teaching Award  Dr. Erin Zaffini, Music Education professor, earns Keene State College Excellence in Teaching Award