For years, matriculating students at Keene State College have participated in the Keene Is Reading (formerly Keene State College Summer Reading) program. The program is rooted in the idea that becoming a more engaged and productive reader is among the most meaningful outcomes of a college education. First-year students have joined faculty and staff in reading a common book and discussing the book, and the issues it raises, in classes and at campus-wide events. Coordinated by the department of English and members of the Commission on Multiculturalism and Diversity, the program has helped first-year students make the transition to college, where the reading and discussing of challenging texts is integral to the campus community.
We invite all students at the college, and citizens of Keene and the Monandock region, to join first-year students, faculty, and staff. The Keene is Reading program furthers the College's mission of building relationships among students, faculty, and staff that emphasize creative and critical thinking and a passion for learning. It also furthers the intellectual and cultural life of the College by fostering intellectual engagement and lifelong learning with members of the local and regional community.
Historical Keene Is Reading Programs
2016-2017
Our spring book selection is Lauret Savoy's Trace: Memory, History, Race, and the American Landscape. Trace is the winner of the American Book Award, and a finalist for the PEN American Open Book Award and the Phillis Wheatley Book Award. Trace brings together memoir, history, environmental studies, and geology as Savoy examines different paths of migration across the country.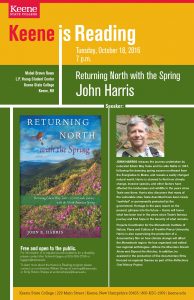 At winter's end in 1947, driven by the devastating loss of a son killed in World War II, naturalist Edwin Way Teale and his wife Nellie followed the dawning spring season northward in an amazing 17,000 mile odyssey from the Everglades to Maine. He wrote about the adventure in the best-selling book North with the Spring. Its sequel Wandering Through Winter won the Pulitzer Prize, and Teale became the most recognized nature writer of his day.
2015-2016 
Citizen: An American Lyric by Claudia Rankine meditates on racial aggression in both every day interactions and in the media through poetry. "The accumulative stresses come to bear on a person's ability to speak, perform, and stay alive. Our addressability is tied to the state of our belonging, Rankine argues, as are our assumptions and expectations of citizenship. In essay, image, and poetry, Citizen is a powerful testament to the individual and collective effects of racism in our contemporary, often named "post-race" society." – http://www.amazon.com/Citizen-American-Lyric-Claudia-Rankine/dp/1555976905
Our Kids: The American Dream in Crisis by Robert D. Putnam has a self-explanatory title. "It's the American dream: get a good education, work hard, buy a house, and achieve prosperity and success. This is the America we believe in—a nation of opportunity, constrained only by ability and effort. But during the last twenty-five years we have seen a disturbing "opportunity gap" emerge. Americans have always believed in equality of opportunity, the idea that all kids, regardless of their family background, should have a decent chance to improve their lot in life. Now, this central tenet of the American dream seems no longer true or at the least, much less true than it was." – http://www.amazon.com/Our-Kids-American-Dream-Crisis/dp/1476769893
2014-2015
Americanah by Chimamanda Ngozi Adichie is about a Nigerian woman that emigrates to the US for university and blogs about her experiences – how she feels different from African Americans, her views on American culture,  how others treat her as a black woman, embracing her African hair instead of treating it, etc.
She decides to return to Nigeria after years of absence and reunites with her first love, who had gone to London after high school and also returned to Nigeria.
2013-2014
"Solomon's startling proposition in Far from the Tree is that being exceptional is at the core of the human condition—that difference is what unites us. He writes about families coping with deafness, dwarfism, Down syndrome, autism, schizophrenia, or multiple severe disabilities; with children who are prodigies, who are conceived in rape, who become criminals, who are transgender. While each of these characteristics is potentially isolating, the experience of difference within families is universal, and Solomon documents triumphs of love over prejudice in every chapter.
All parenting turns on a crucial question: to what extent should parents accept their children for who they are, and to what extent they should help them become their best selves. Drawing on ten years of research and interviews with more than three hundred families, Solomon mines the eloquence of ordinary people facing extreme challenges." – http://www.amazon.com/Far-From-Tree-Children-Identity/dp/0743236726
2009-2010
Kurlansky is the New York Times-bestselling author of many books, including The Last Fish Tale: The Fate of the Atlantic and Survival in Gloucester, America's Oldest Fishing Port and Most Original Town; The Food of a Younger Land; and our Keene is Reading selection for this year: Cod: A Biography of the Fish That Changed the World. He is the winner of a Bon Appétit American Food and Entertaining Award for Food Writer of the Year, and the Glenfiddich Food and Drink Award for Food Book of the year, as well as a finalist for the Los Angeles Times Book Prize.
2008-2009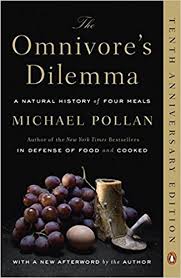 This year, many in the Keene State College and Keene communities have read Michael Pollan's The Omnivore's Dilemma and have joined in classes and campus events to discuss the book and the issues it raises about growth, distribution, and the consumption of food.
On Wednesday, March 25, journalist, author, food-policy expert, and activist Dr. Raj Patel will speak on the growing international food crisis and what can be done to stop it. Sponsored by the Keene is Reading Program, this event is free and open to the public and will start at 7 p.m. in the Mabel Brown Room of the Student Center.
Dr. Raj Patel has lived and worked in Zimbabwe, South Africa, and the United States and is best known for his 2008 book, Stuffed and Starved: The Hidden Battle for the World Food System. He has been a visiting scholar at Yale and the University of California, Berkeley, and his work as food-policy analyst and activist challenges our presumptions about the global food economy.
Dr. Patel is currently a visiting scholar in the Center for African Studies at the University of California at Berkeley, a fellow at Food First, and a research associate at the School of Development Studies at the University of KwaZulu-Natal in South Africa.
2007-2008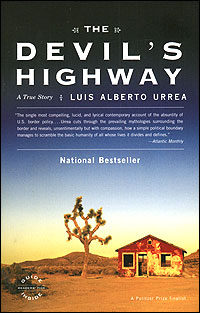 This year's book selection is Luis Alberto Urrea's The Devil's Highway (2004), a nonfiction account of a group of Mexican immigrants lost in the Arizona desert. The book was a finalist for the Pulitzer Prize and received a 2004 Lannan Literary Award and the Pacific Rim Kiriyama Prize.
Luis Alberto Urrea, who teaches creative writing at the University of Illinois-Chicago, has published numerous books, including his National Book Award-winning memoir Nobody's Son: Notes from an American Life (1999) and the novel The Hummingbird's Daughter (2005).